What does it take for a female real estate entrepreneur to build a business from the ground up and steer it successfully through a decade and a half, more importantly through choppy waters? Resolve and resilience, says Naghmeh Sheikholeslami, CEO of Dubai-based real estate agency Seven Century Real Estate Brokers.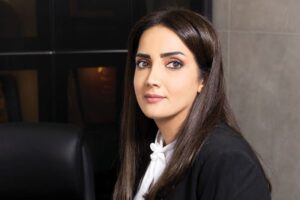 To face a global financial crisis a year into establishing the company must have been a daunting reality. While investors faced challenges and companies shut shop, Seven Century's raison d'être at the time was to support its customers and stand its ground.
"We started [the company] in 2007 and even after the 2008 global crisis, we didn't shut shop, neither were our phone lines plugged off for a day. We were always available to assist our clients in consolidating and negotiating their payment plans," explains Sheikholeslami.
"Though we never decommissioned our services, we did reduce our expenses and focused on improving our offerings for our clients. It was challenging at the time, but the efforts paid off, as those investors continue to support us till today.
"From initially offering brokerage services, we then expanded our operations to property management services, which range from property snagging and handover to lease management," she adds.
Helming a team of around 60 employees, Sheikholeslami, who first arrived in Dubai as a student in 2004, now oversees three company divisions, covering brokerage, property management and holiday homes.
"Our one-stop solution differentiates us from other players in the market. Within brokerage, we focus on primary and secondary residential and commercial sales. Within property management, we handle real estate assets and offer 24/7 maintenance services; and with regards to holiday homes, we manage short-term leasing and provide services for interior design and furnishing," notes Sheikholeslami.
"Within our sales team, we have experts who specialise in different kinds of properties because we have clients from all stripes – those who are keen to purchase studio units to the ones interested in buying villas, pent-houses, residential lands, commercial offices and retail shops," she adds.
Strong economic backdrop
Apart from its skyline, a lot has changed across Dubai's real estate spectrum over the last two decades, be it the number of players, technological advancements, new entrants, legislation or customer priorities. "There has been a drastic change from the time I started out, across all facets of the industry, be it [property] transfer, digitalisation, escrow accounts for projects or virtual tours, among others," adds Sheikholeslami.
The company, a four-time recipient of the 'Gold Ranked Agency Award' from Dubai Land Department, has grown alongside the emirate, which has reshaped its real estate – and wider economic – landscape, owing to its vision, grit and technological superiority.
Today, Dubai as a real estate hub, offers fertile ground for opportunities and growth. Numbers act as a perfect advocate: In 2021, Dubai recorded the highest value of real estate sales transactions in 12 years, with properties worth Dhs151.07bn sold throughout the year, according to Property Finder's data.
The momentum seems to have continued this year as well, with the emirate recording a total of 25,972 real estate transactions in Q1 2022, making it the highest number of property transactions registered in a single quarter since 2010. Of those, a whopping 20,539 were sales transactions worth Dhs55.51bn, according to Mo'asher, Dubai's sales and rental performance index by the Dubai Land Department. The six-month long expo event, which beckoned the world and clocked in north of 24.1 million visits – also left a positive imprint on Dubai's real estate market.
Dubai's population has also grown from 40,000 in 1960 to a whopping 3.3 million by the end of 2020, while its urban and built area increased 170-fold from 3.2 square kilometres during the same period. Furthermore, with the city keen to chart its future course, the Dubai 2040 Urban Master Plan was also launched last year – the seventh of its kind developed for the emirate since 1960 – offering a range of investment and lifestyle opportunities for citizens, residents and visitors over the next two decades.
The number of Dubai residents is also expected to rise to 5.8 million by 2040. Opportunities, however, aren't restricted for domestic uptake only. Initiatives and incentives by the emirate and the country have, in large part, made a strong case to the global audience. As a result, foreign investment into the UAE's real estate sector has been promising.
More so, during the first half of 2022, Dubai won bids to host 99 major events in the forthcoming years, advancing the broader economy and beckoning the world. Legislation is also pushing the world to stand up and take heed. A new decree incentivising property investment funds in Dubai was recently issued to bolster the emirate's position as a real estate investment destination.
The decree, under its purview, covers all real estate in Dubai, including properties located in private development zones and freezones, excluding Dubai International Financial Centre. Visa reforms, including the introduction of the 'Golden Visa' and others, have also helped catalyse growth.
"Dubai's market is moving [ahead] in a positive direction, with rising population, long-term 'Golden Visa's, growing infrastructure and­ visas for new entrepreneurs leading to increasing demand in housing," opines Sheikholeslami. People invest in other countries besides their homeland for two primary reasons – secure investments and good rate of return, she adds.
"[In Dubai], protection by law and well-defined rules help investors gain confidence. Additionally, managing ready properties through registered property management companies makes it easier [for investors] to manage their portfolios."
Changing dynamics
Several macro factors have recalibrated economies and consumer priorities in recent years. Apart from significant health implications, the Covid-19 pandemic posed as a huge economic roadblock for industries, regionally and globally. With social restrictions, remote operations, expedited technological adoption and vaccination efforts, several countries managed to weather the pandemic pragmatically. ­
The UAE's response to the crisis, however, was immediate, effective and widespread – in addition to offering economic support, north of 24.92 million vaccine doses were administered to people across the country.
"In the wake of the Covid-19 pandemic, the entire world acknowledged how the UAE government efficiently handled the crisis. People from different parts of the world are now planning to establish a second home/base here and many [are considering the UAE] for their retirement plans," notes Sheikholeslami.
Apart from ushering in digital innovation and adoption earlier than anticipated, the global health crisis also helped reshape customer priorities in terms of their home choices, with buyers actively considering elements such as spacious settings, sustainability and value-added features.
"Post the pandemic, client preferences changed as the concept of community living came to the fore. Tenants now prefer to live in townhouses or villas, even far from the centre of the city, as they are keen on personal spaces for remote working/e-learning, etc.," explains Sheikholeslami.
"Villa communities are [also] getting popular because of low services charges and well-designed communities by renowned developers," she adds.
The shift in buying behaviour that resulted due to the pandemic has continued into the year as well, with customers opting for completed units, compared to off-plan ones. According to official data, in Q1 of the year, secondary market transactions made up 58.05 per cent of the total real estate sales transactions volume.
However, other factors come into play. Sheikholeslami adds that residents who managed to snag convenient mortgage plans and post completion plans from developers prefer ready properties, while international investors opt for off-plan assets due to extended payment plans.
With the future in sight, Sheikholeslami, however feels that game-changing trends that will help reshape the local property market include the concept of community living, new visa reforms and conducive mortgage plans.
Venturing forward
Though not without challenges, it has all come together for Sheikholeslami, for whom Dubai has now been home for nearly two decades. And it doesn't stop here. The CEO harbours growth plans which include diversifying the company's offerings.
"Along with expansion plans of increasing the sales and leasing force, we have a target to house a 24/7 call centre [to complement] our property management services. An even bigger plan is to set up a training academy which will be led by experienced real estate trainers to produce qualified personnel who can contribute and add value to the [real estate] industry."
However, obstacles exist, in varying forms. Sheikholeslami's biggest hurdle is to recruit professional resources as there aren't enough. Another dilemma – though on a holistic level for the CEO – was to strike the 'perfect balance.'
"The biggest challenge for me was to balance my work/personal life as a woman [entrepreneur]. That said, Dubai offers an ecosystem that is holistically ideal for women. Professionally, I never encountered any hurdle in my interactions with various government departments, developers and customers. The emirate's culture supports female entrepreneurs in all aspects, offering equal footing, safety and security."
With a long-haul strategy in place, grit to rise up to challenges and Dubai's booming landscape offering a perfect backdrop, Sheikholeslami appears to have checked all the right boxes.