Dotmount Communications 0n Saturday February 18, held its first training of the year at the flagship office in Abuja, Nigeria. The event titled "The Power of Networking in the Digital Era" was strictly curated for female business owners and CEO's, and was graced by heavy weights in today's industry.
Dr. Ibukun Adebayo, CEO Rock Realty Limited; Hajia Aisha Salisu, CEO March Energy; and the Director General Nigerian Copyright Commission, Dr. John O. Asein were keynote speakers at this inspiring event.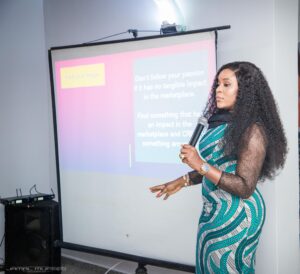 Dr. Ibukun Adebayo, launched the event with her topic on "Creativity in Today's Business Environment", where she made a seamless connection between networking, digitalization and creativity in the workplace. She began her keynote with an inspirational quote from one of her mentors which goes: "success is overrated and the reason is because success is the extra effort things we do daily". She then gave an example between Blockbuster's mode of distributing film, and that of Walmart and Netflix.
Dr. Ibukun Adebayo further emphasized that, "the biggest danger is to think that your industry won't be significantly digitalized", and implored the women in the room to find way to digitize their businesses. She added that women should "network up and network down" meaning women should see that help can come from any angle, and to "stop the idea that everyman wants to sleep with you…and there are men who are willing to help you without anything in return".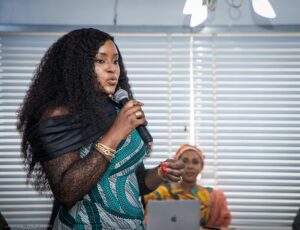 The keynote speaker was Hajia Aisha Salisu who discussed "Women's Role in Powering the Energy Transition". She began her keynote with a history of women who inspired her to becoming the fierce woman that she is today, and how it took her sometime to find what she was passionate about.
She made a connection between "networking up and networking down", and gave a story of how she "networked up, leveraging on her then organization to be able to transition to another sector. Being a banker she was diligent in service, which wasn't particularly easy especially coming from a political science background. But because of her tenacity and willingness to learn she was able to succeed, saying "the easiest way to network is to be indispensable that will be the way to network without introducing yourself".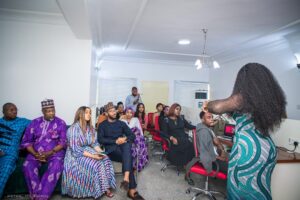 Hajia Aisha Salisu, then spoke about leveraging her connections to start a business. She further spoke about the importance of research, and regaled the audience with a story where she had been convinced to haul petroleum products and hadn't done sufficient research that led to her paying the price afterwards.
After, her introduction she delved into her topic on climate change and energy transition. Hajia Aisha Salisu began by imploring the women in the room to be open to the concept of climate change as it affects us.
She defined Energy transition according to (S&P Global, 2020). as "The worldwide shift away from fossil-based energy production and consumption systems, such as coal, natural gas, and oil, and toward renewable sources of energy, such as solar, wind, and lithium-ion batteries."
She emphasized the need for energy mix for the country as natural gas which Nigeria has in abundance is the cleanest fossil fuel and is widely regarded as a critical component in the world's transition to a cleaner future. The Nigerian government has also stated its position on the use of gas as a transitional fuel.
As Nigerians we value oil, but it is time to move away from it to other cleaner energy solutions such as gas, solar, wind, and other renewables. The reason is because oil emit greenhouse gasses alter temperature of the environment, and harms the climate"

Hajia Aisha Salisu then made a connection between climate change, food security and insecurity, stating that if our climate was in a good condition we would have more opportunities available for people suffering in the North East as result of insecurity. She also emphasized the need for curbing food wastage by utilizing renewable such as wind and solar.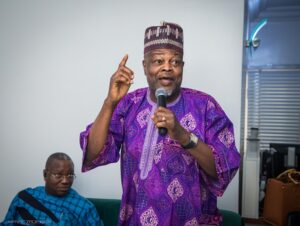 Additionally, Hajia gave a striking instance about how most casualties in the Turkey earthquake were women and children further emphasizing the need for women to take a stand on climate change.
Hajia Aisha Salisu concluded her keynote by saying women should start taking up more space to be able to effect the change needed in the environment. She also proffered some credible solutions such as: women participating in climate action and conversations, taking up corporate spaces, and educating our girl children.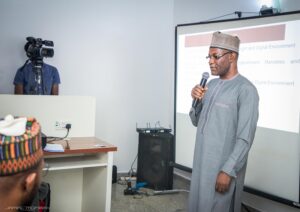 The keynote was concluded by a representative of the Director General, Nigerian Copyright Commission, who spoke extensively on "Creativity, Copyright and the Digital Environment: Challenges and Opportunities". The representative Mr. Collins Nweke talked about the importance of copyrights in today's digital age and how we should protect ourselves again theft of intellectual property.
The event was concluded by, the founder of Dotmount Communications, Mr Adedotun Olaoluwa, who spoke after the event, stated that "What we share is more than what divides us, we can connect through meaningful conversations to create lasting positive impact. This is why the aim of the Future Forward Forum is to inspire intergenerational dialogue that breaks barriers and drives change.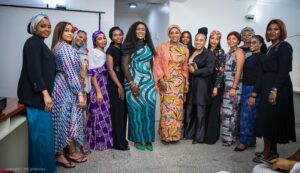 The multi-generational dialogue that breaks barriers, inspires change and transforms the world, through raising awareness about shared values and common grounds, which is a first step forward to opening dialogue that leads to real, transformative impact through the individual, the community and to the world at large".
The in-house forum which was held at the Centro hub Abuja was shosted by Emmanuel Rotiba and Ogochukwu Erilim.